Naples, FL (May 23, 2022) – Overall inventory in Naples during April increased 16.5 percent to 1,668 properties from 1,432 properties in April 2021. Fueled by a swell of new single-family home listings, up 5.7 percent over last year, broker analysts reviewing the April 2022 Market Report by the Naples Area Board of REALTORS® (NABOR®), which tracks home listings and sales within Collier County (excluding Marco Island), are confident the Naples area housing market has reached a crossroad and is making its turn toward a balanced and healthy market.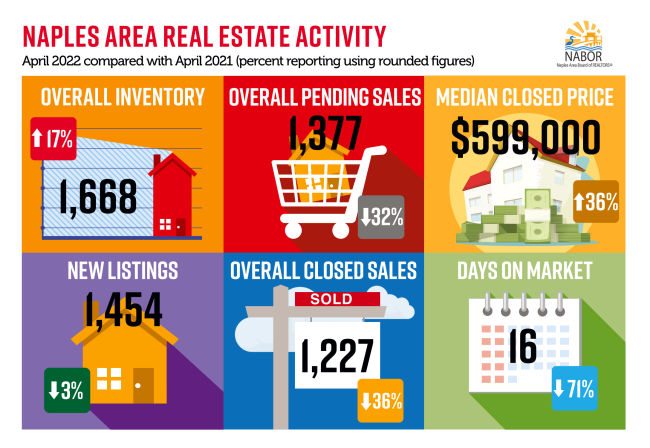 Demand for the Naples lifestyle remains strong. Days on market for April was 16 days, considerably less than the historic 90-day average. As inventory begins to rise, days on market may increase and list prices in some neighborhoods may shift down slightly; but broker analysts agree that we should not expect home prices to drop to anywhere near pre-pandemic levels.
The $300,000 and below market was once the biggest category for closed sales in Naples. But rapid sales during the last 18 months severely depleted inventory in this price category. As such, there were only 96 properties below $300,000 in April's inventory.
The overall median closed price in April increased 39.2 percent to $599,000 from $440,000 in April 2021. The uptick reflects the low number of sales in the $300 and below price category. Median closed prices continue to rise in the single-family home market, up 8.7 percent from March, but median closed prices during April in the condominium market decreased 1.1 percent from March.
The NABOR® April 2022 Market Report provides comparisons of single-family home and condominium sales (via the Southwest Florida MLS), price ranges, and geographic segmentation and includes an overall market summary. NABOR® sales statistics are presented in chart format, including these overall (single-family and condominium) findings for 2022: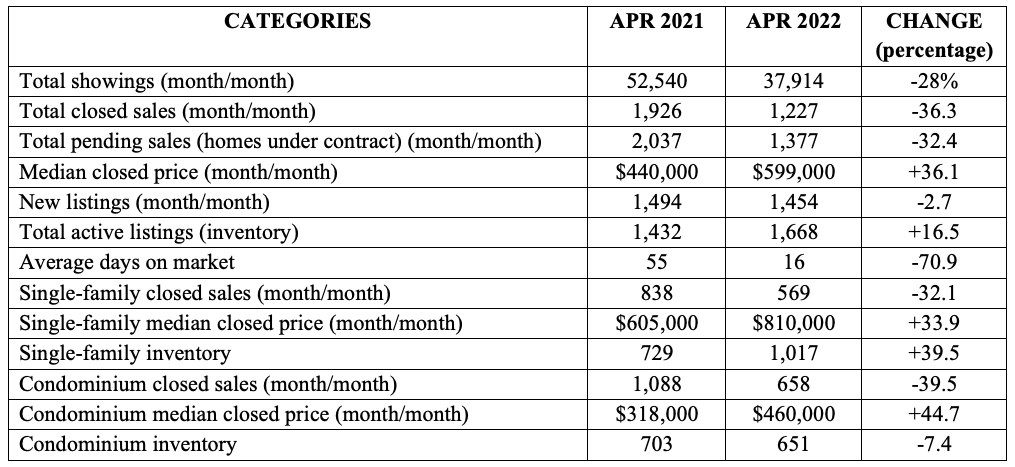 Even though inventory rose 39.5 percent in the single-family home market during April, pent up demand for this property type did not temper its median closed price. "When inventory rises, buyers have more options. If inventory continues to rise, it should create more balance during negotiations between sellers and buyers," said Dominic Pallini, Broker at Vanderbilt Realty.
Rising mortgage rates are likely reducing the number of buyers who can get pre-qualified for a home purchase in Naples, but it did not negatively impact buyer interest during April. In fact, there were over 200 more showing appointments during the month than reported in March, and 66.7 percent of all closed sales in April were cash sales.
Many brokers, including Mike Hughes, Vice President and General Manager for Downing-Frye Realty, Inc., recommend buyers place back-up offers because over 600 properties that went pending were put back onto the market in the last two months. "This is encouraging news for summer buyers as a back-up offer could win the day for them."
If you are looking to sell a home in Naples, contact a Naples REALTOR® professional who has the ability to provide you with an accurate market comparison in this fast-moving market, manage your showings to the right audience, evaluate the use of contingencies, and help you negotiate your home sale during a multiple offer process.
If you are looking to buy or sell a home in Naples, Marco Island, or Bonita Springs, partner with one of Downing-Frye's professional REALTORs® who can help guide you to your paradise.