Downing-Frye REALTORS dominate the local market – as measured by the number of customers and volume of transactions.
For over fifty years, the Downing-Frye name has set the standard for excellence and professionalism in Naples, Marco Island, Bonita Springs, and Estero real estate markets.
Since 2004, Downing-Frye Realty has been ranked in the top 100 real estate offices in the country based on closed sales volume. Our Naples office has been voted Best Real Estate Office in the Southwest Florida People's Choice Award contest for 18 straight years. We have also been voted Best Real Estate Office in Bonita Springs by the News-Press readers for 14 straight years.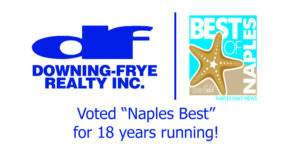 So why are Downing-Frye REALTORS® successful year in and year out?
We are committed to preserving the customer-centered philosophy in real estate and the family-centered philosophy with our team of agents and support staff members.
Our REALTORS® are equipped with the tools, training, and personal support to help you find your dream home.
Our team of brokers that are accessible, even on weekends. Downing-Frye has the tools and resources of a large real estate brokerage, with the feel of a small family-owned company. Our brokers are easy to reach by cell phone and our team of professionals is ready to assist our associates in closing your deal.
Sales leadership training. There is a difference between passing the license exam and building a profitable career in real estate. Our REALTORS®vtake part in high-level sales, marketing, and leadership training to help them be more effective in building their book of business, so newly licensed agents can start a career and experienced agents can sharpen their skills.
Efficient and effective technology. Our team is always looking for more cutting-edge technology to increase efficiency and help associates be more productive. The technology and tools that we provide are designed to give you a competitive edge. Even if you are not computer savvy, we have a technology team here to help you navigate through the systems.
Access to specialty tools like LuxuryRealEstate.com. Are you interested in reaching a broader potential customer base and attracting international offers? Every Downing-Frye listing over $500,000 is featured on LuxuryRealEstate.com to help you connect with more buyers.
Commitment to true customer service. Our associates are proud to live and work in paradise and it shows. They are passionate about helping new home buyers find their ideal lifestyle as well as helping sellers get the most value out of their investment.