Contributed by: Brett Carter, Fidelity Direct Mortgage
Zoom Meetings, Remote Work, Virtual Office, Remote Learning. For almost two years our world has been completely consumed by the COVID-19 pandemic and its impact on our daily lives. While we have made tremendous progress, there is no doubt that our homes will continue to reflect the new reality of work-life balance.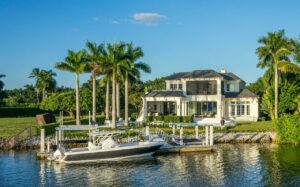 One of the many changes driven by the pandemic has been the acceleration of the hybrid work revolution. We all have seen the rapid advances in technology and felt the impact on how we live and work for some time. However, the COVID-19 pandemic showed us how to transition to a "new normal" much faster than we imagined we could. Think about it…. Three years ago terms like Zoom calls, Zoom meetings, remote work, virtual office, and remote learning were never in the discussion now they are part of our everyday language. I bet you are having a remote experience today of some kind.
The real estate market has experienced a tremendous boom over the past two years. Who would have thought during a once in a century pandemic the real estate market would explode? Historically low-interest rates, pandemic-era savings, stock market gains, and Millennials entering the market in record numbers have been significant drivers in the 2020 and 2021 housing boom, but these are not the only reason the second home market has exploded.
I am not a fan of the term "new normal," but the pandemic caused many people to reevaluate their lifestyle choices. Now that remote work is a reality, some firms project up to 48% of their workforce will work remotely post-pandemic, people are no longer bound geographically to by proximity to their work location. This has upended the global housing markets as demand has plummeted in the cities and people are looking for alternatives. Historically this was a transition to the suburbs where you may have a better quality of life but were still close enough to commute to your office. The hybrid work revolution changed this. You might say we "Zoomed" right past the suburbs to the resort areas. If working remotely is the 'new normal' and you can work from wherever you are, why not live wherever you want? For many homebuyers today that is not in the city, not in the suburbs but in a vacation paradise! If you are working from home. Work somewhere wonderful!
This trend is going to continue as the hybrid work revolution continues! According to Knight Frank's 2021 Global Buyer Survey, 33% of the respondents are looking to buy a Second Home. "With the rise of remote working, second homes or 'co-primaries' are becoming a viable option for more buyers seeking a better work/life balance," the report said.
Zoom and Co-Primaries will become a permanent part of our language, and the Second Homes Market will remain hot as "Second Homes" are not a "Second Home" anymore!
If you are looking to buy a home in Naples, Marco Island, or Bonita Springs, partner with one of Downing-Frye's professional REALTORs® who can help guide you to your paradise.