Naples, Fla. (September 23, 2022) – Indications that the Naples area housing market is transitioning to a balanced market became more evident during August as both inventory and days on the market increased. According to the August 2022 Market Report by the Naples Area Board of REALTORS® (NABOR®), which tracks home listings and sales within Collier County (excluding Marco Island), overall inventory increased 71.3 percent to 2,140 properties from 1,249 properties in August 2021. Of the homes on the market during August, 35.8 percent of them (766) experienced a price decrease and the overall list price received for the month slipped slightly to 96.4 percent from 99.2 percent in August 2021. Broker analysts say these factors are attributed to seller and buyer behaviors that resemble a healthy market environment.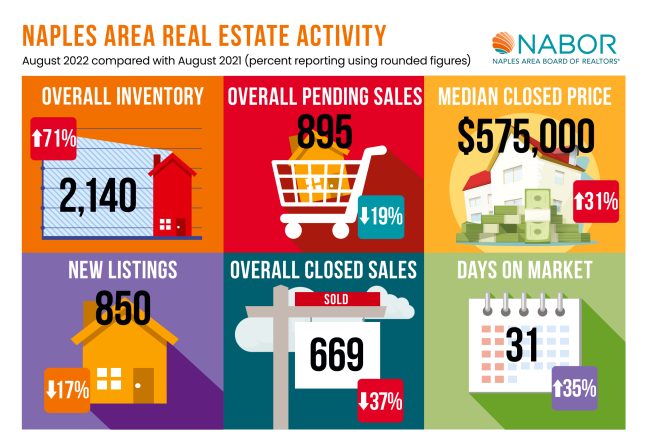 Download the infographic above which compares August Market Statistics – A Spanish version is available here
The overall median closed price continued to increase in August, up 30.7 percent to $575,000 from $440,000 in August 2021. "There were only 31 single-family homes and 79 condominiums under $300,000 on the market during August," said Mike Hughes, Vice President and General Manager for Downing-Frye Realty, Inc. In August 2019, there were over 1,400 properties on the market under $300,000. But with so few available in the lowest price category today, Hughes remarked that "we should expect the median closed price to continue to stay high as long as the high-end market continues to stay very active."
The NABOR® August 2022 Market Report provides comparisons of single-family home and condominium sales (via the Southwest Florida MLS), price ranges, and geographic segmentation and includes an overall market summary. NABOR® sales statistics are presented in chart format, including these overall (single-family and condominium) findings for 2022: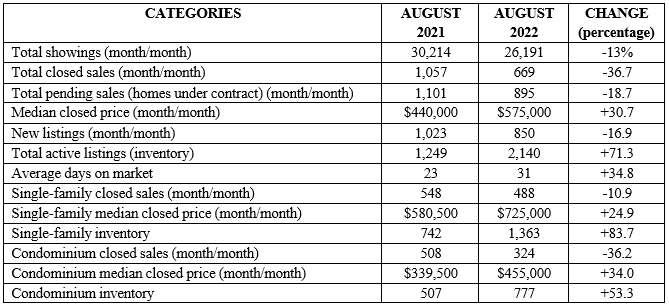 While showings were down 13 percent compared to August 2021, they were higher than showings reported during June and July. And there were 5,000 more showings in August compared to showings reported during pre-pandemic August 2019. Incidentally, there were 4,917 properties in inventory during August 2019 compared to 2,140 properties in August 2022.
Hughes remarked that the pandemic influenced many people's behaviors, which led to outstanding showing and sales activity starting in late 2020 and through 2021. "People pushed up their plans to either retire early and move to Florida or purchase a second home in Florida. Demand for homes in Florida continues to be strong despite the Fed raising rates and fears of a recession. For Southwest Florida in particular, we've always enjoyed either good years or great years."
If you are looking to sell a home in Naples, contact a Naples REALTOR® professional who has the ability and expertise to provide you with an accurate market comparison in this fast-moving market, manage your showings to the right audience, evaluate the use of contingencies, and help you negotiate your home sale during a multiple offer process. A REALTOR® can ensure your next purchase or sale in the Naples area is a success. Search for your dream home and find a Naples REALTOR® on DowningFrye.com.